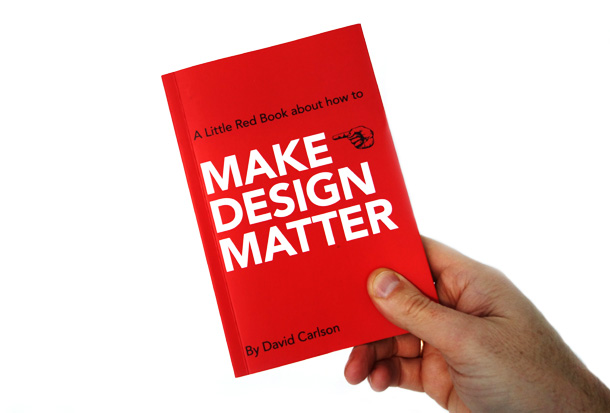 This little Red Book presents a pocket size guide to meaningful design. Seven stepping-stones that help you cross the stream of change, and get you to the other side, firm and dry. The guide is an important iterative and strategic approach based on holistic thinking, shared wisdom, and reflective insights, and will help you to make design better – and matter!
Make Design Matter is published by BIS publishers.
The book is also available in German with the title Design Oder Nicht Sein, published by Midas.
Some words about the book:
"Davids' new small red book is inspiring food for thought about the changing role of design." -designforchangeblog
"Make Design Matter is full of lessons for designers in practice; of punk rock, David Lynch, Nobel price winners, Leonardo Da Vinci to Bjork and the Ice Hotel." -Dutch Cowgirls
"Make Design Matter is a call to arms, a reminder that we deserve better than the consumer hell we find ourselves in, that design is more of a tool than a celebrity status and it should transcend beyond objects that consume resources and live short lives and become a means of creating fulfillment." -Green Car Design
"In his new book David Carlson gives robust and inspiring tips on how you can become the designer of tomorrow." -Form
"The author David Carlson writes a pamphlet on meaningful design, an alarm clock for those who are not already awake and a snooze to those who put the pillow over their head." -Sveriges Arkitekter
"Making Design Matter – seven steps to making your design mean more to its audience through positively engaging design processes in ethical and sustainable thinking." -Swedishdesign.org
"Make Design Matter is a pocket size guide to meaningful design." -Dexigner
"We like this little Red Book!" – OEO
"Succinct anecdotes form a philosophical narrative without actually sounding preachy or condescending." -India Art n Design
"Get Your Little Red Book and Make Design Matter." -Eyes In